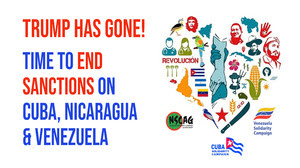 Venezuela Solidarity Campaign https://www.venezuelasolidarity.co.uk/
latest news https://morningstaronline.co.uk/tags/venezuela and https://www.venezuelasolidarity.co.uk/news-analysis/
Morning Star Editorial 4-2-19 – The truth on Venezuela is being systematically silenced https://morningstaronline.co.uk/article/e/truth-venezuela-being-systematically-silenced
Britain's dirty war on Venezuela at UN revealed https://morningstaronline.co.uk/article/splash-venezuela-winning-un-security-council-seat-would-be-ghastly
The SPECIAL REPORT takes through the economic and political sanctions imposed by the US government since 2014.
This information charts the IMPACT OF US SANCTIONS in various areas of of social and economic life in Venezuela.
THE VISIBLE HAND OF THE MARKET – ECONOMIC WARFARE AGAINST VENEZUELA by Pasqualina Curcio – A more rounded (longer and more technical but very useful) analysis of how economic warfare works.
SIR ALAN DUNCAN ADOPTS TRUMPISM -I wrote this comprehensive analysis seeking to dismantle the anti-Chavista propaganda emanating from the highest levels of the UK government.
To all the sanctions catalogued in the documentation above, we must add the latest which targets Venezuela's Central Bank (but also against Cuba and Nicaragua):
These two items shows the US is ready for war;
US SOUTHCOM HEAD SAYS VENEZUELA MILITARY INTERVENTION "MIGHT BE NECESSARY" BY END OF 2019
US MILITARY THREATENS SYRIA-LIKE WAR IN VENEZUELA, AWAITS TRUMP'S ORDER
THERESA MAY – GIVE VENEZUELA BACK ITS GOLD
► SIGN AND SHARE THE PETITION ►
"We condemn the decision of the Bank of England to refuse to return to Venezuela billions of dollars of its gold deposited there.
This echoes the decision of Donald Trump to impose tough economic sanctions on Venezuela to try to enforce unlawful regime change. The Venezuelan gold deposited in the Bank of England is the property of the Venezuelan people, not British banks. Preventing its return, like all such sanctions, only hurts the poorest in Venezuelan society.
Britain should not be aiding the Trump administration in imposing sanctions and regime change. Instead it should be promoting dialogue and negotiation to reach a peaceful and longstanding settlement in Venezuela as advocated by the Mexican and other Latin American governments.
We call on the British government to act honourably and make clear to the Bank of England that this gold must be returned to its rightful owners – the Venezuelan people."
2019